Final Goodbyes to John Caton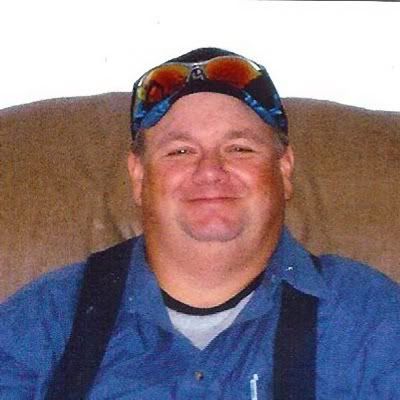 John Caton
Nov. 9, 1964 – June 2, 2007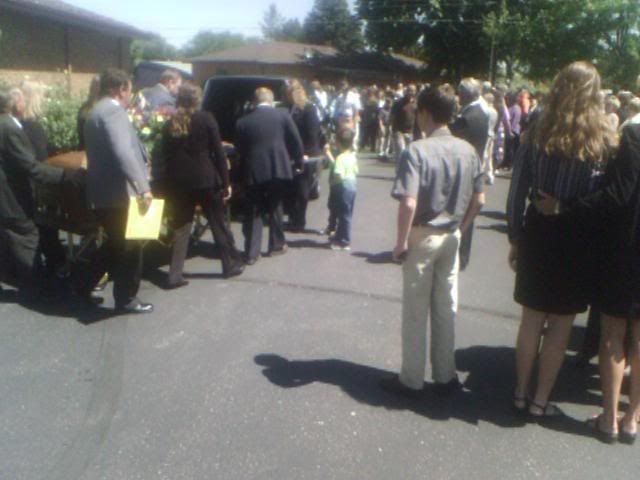 Written By Bug
John Caton was in an closed casket Friday morning, surrounded by flowers and a NASCAR book, as an overflow crowd gathered to say their last goodbyes to the well known friendly Deaf guy in Colorado. Everyone remembers his smile which it touched their heart. Most of them knows that John was a big fan of NASCAR and sport cars.
Caton, 42, died on Saturday, June 2. "The result of death is unknown", John's brother Butch and cousin Cheri said. Butch thinks it was seizure but he is not sure. John's family is still waiting for the results and it might takes about 2 weeks or so to know the answer.
Friends and family attended the funeral inside Stoddard Funeral Home. After that more than 80 vehicles were lined the street and followed a funeral car to his grave at Sunset Memorial Gardens in Greeley where he would be buried. About 250 people were attending.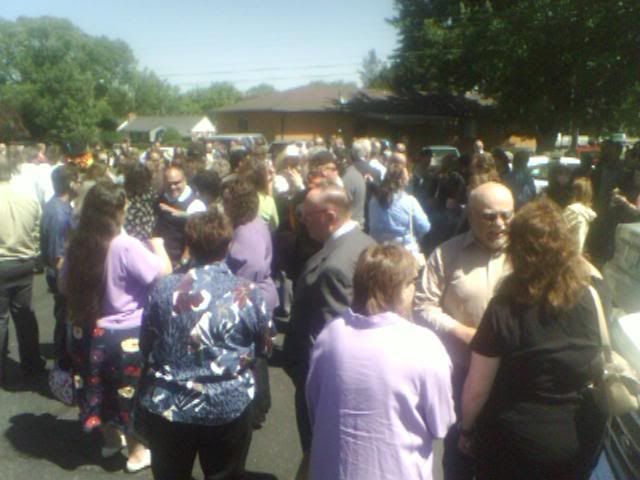 His mother Myra was touched by hundreds of people at the funeral. She said that she was very happy to see his John's many friends coming and it helps her to feel great.
Cathy Anderson met John when they were classmates in the elementary school in 1968. They were great friends. Years later John was smiling and asked her out on date. "He kept asking me out. I didn't want to go out on date with him because I was pretty shy. Now I feel guilty because I didn't give a chance. I love his smile so I called him " Smirk" I gave him that nick name. John thought that was the name of movie which it was "Shrek" as a green orge human. I laughed and explained to him what Smirk means. It means smiling forever. He said "OH I like that," Cathy said.
Nicki Lepetit made many Deaf friends through John. "I didn't socalize with many deaf people since I moved back from Europe. John encouraged me to connect the Deaf World. Now I have many friends because of him," Nicki said.
The best thing about John Caton was, his smile and he was a loving, comforting and friendly guy. He enjoyed visiting anyone. He was a fan of NASCAR. He loved "hearing" by feeling the loud cars. He loved talking about his family and friends. He had a big faith in God as it seems like he knew his time would come to end so he visited and contacted almost everyone before he went away. Bless him.
He attended the Lab School and the University of Northern Colorado and graduated from the Colorado School for the Deaf and Blind in Colorado Springs. He worked for Lithia Volkswagon at the time of his death.
John will be remembered for his great sense of humor, his love of family, his pride in his nieces and nephew, and his bond of friendship that was formed with anyone he met and his contagious laugh. Mr. Caton died Saturday at his home.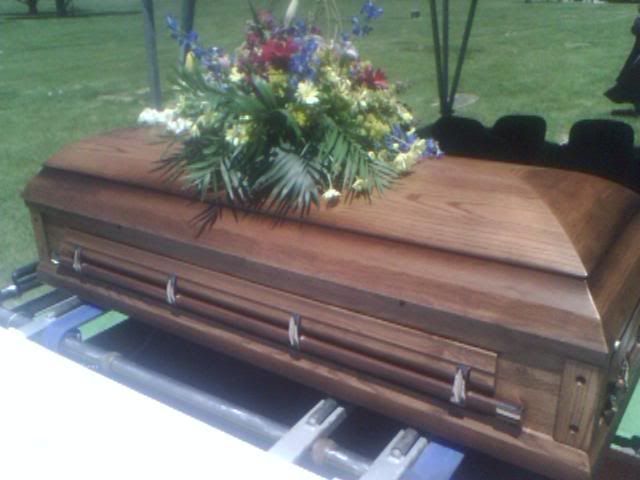 Want to help? Donations may be made to the John Caton Memorial Fund in care of Stoddard Funeral Home, 3205 West 28th Street, Greeley, Colorado 80634
To read the comments about John and see the pictures, please click or copy and paste it
(http://fookembug.wordpress.com/2007/06/04/deaf-man-in-denver-dies/#comments)
(http://fookembug.wordpress.com/2007/06/05/funeral-service-for-john-caton-on-friday-june-8th/#comment)